The idea/inspiration for this recipe came from one of my best friends. We have known each other since highschool and still chat each day. It is amazing we have know each other for like 20 years. Makes me feel very old.
Anyway during our "what are you having for supper" part of our conversations she told me how she mades chicken enchiladas. It sounded great! I tweaked the directions to fit our family and voila!, Vegetarian Enchiladas were born.
Thanks A!
Vegetarian Enchiladas
2 servings
Tac'Os
1 can black beans, drained and rinsed
1 box red beans and rice, prepared
2 cans broccoli cheese soup
1 jar
Salpica Mango Peach Salsa
tortillas (flour or whole wheat)
shredded cheese
shredded lettuce
sour cream
chopped tomato
Fix
Tac'Os
and red beans and rice according to package directions. Mix 1 1/2 cans broccoli cheese soup with1 1/2 cups salsa. Add Taco-O's, black beans and red beans and rice. Mix together. Place 1/2 cup bean mixture on one end of tortilla. fold that end over the mixture, fold each end in and roll tortilla over. It will made a nice burrito/enchilada shape and the filling will stay in.
Place in 9x13 pan. Each pan should hold 6. Mix 1/2 can soup with 1/2 cup salsa. Spread over top of each enchilada. Place remaining 6 in 9x13 pan. Spoon salsa over top and sprinkle with shredded cheese. Cover pan with tin foil and bake at 350º about 20-30 minutes.
Serve with shredded lettuce, sour cream and tomatos. A homemade guacamole would be great but J didn't make it for me last night.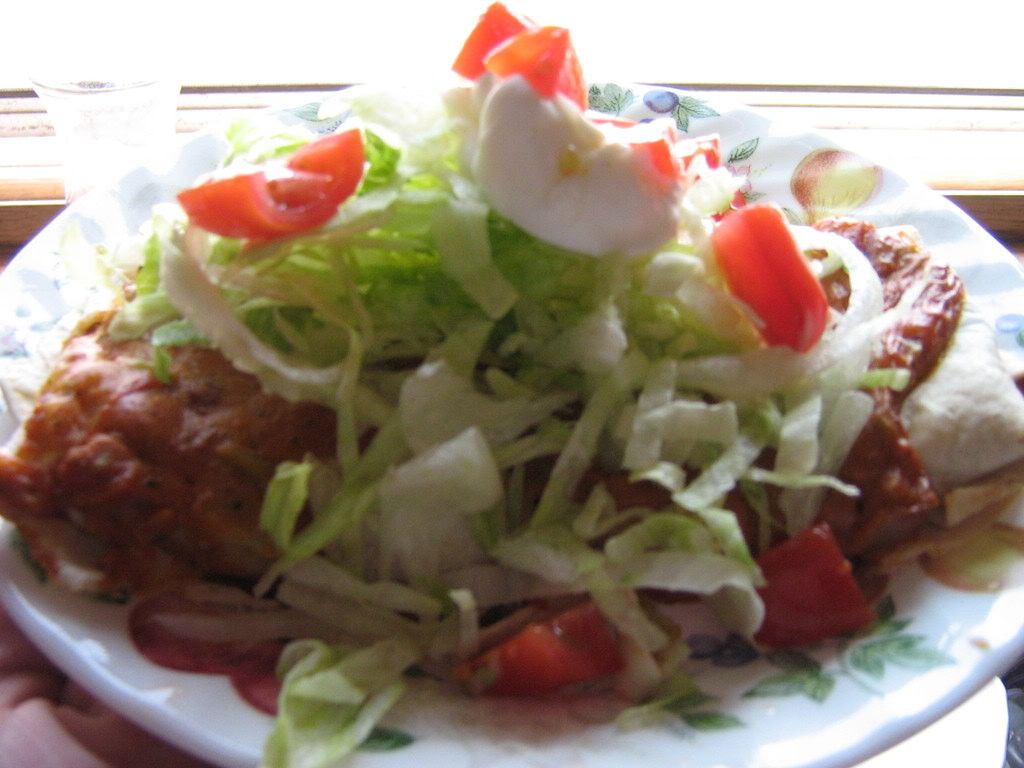 Enjoy!
© 2008 The Homefront Lines