Stirfry
is
definitely
one of our favorite foods. :) It is good with just veggies or with tofu added. DH insists we could put chicken in it, but then he isn't cooking, is he?? This recipe is a combination of different recipes.
Teriyaki

Garlic

Stirfry
1 box cubed tofu, drained and pressed
bottled
teriyaki
sauce
sprinkle ginger
about a teaspoon minced garlic
Mix
teriyaki
, ginger and garlic together. Marinate tofu in sauce for at least 1 hour up to 3 or 4 days.
Veggies (use as much as your family will eat):
broccoli, trees broken apart
carrots sliced at an angle
onion,
chunked
or sliced
red and
orange
peppers,
chunked
or sliced
celery, sliced at an angle
asparagus cut in thirds
teaspoon
minced
garlic
any other veggie you like in stir fry
Sauce (can double if wanted):
1 cup water
1/3 cup soy sauce
3 Tbs corn starch
Mix together until needed.
Heat sesame oil in large skillet or wok (if you are lucky enough to have one). Fry tofu until kind of crispy. Remove, set aside. Heat more sesame oil, add onions, peppers, carrots, celery and
stirfry
about 5 minutes. Add asparagus, garlic and tofu. Stir fry until heated through. Stir in sauce mix and
stirfry
until
thickend
and veggies are covered.
Serve over brown rice and with
eggrolls
.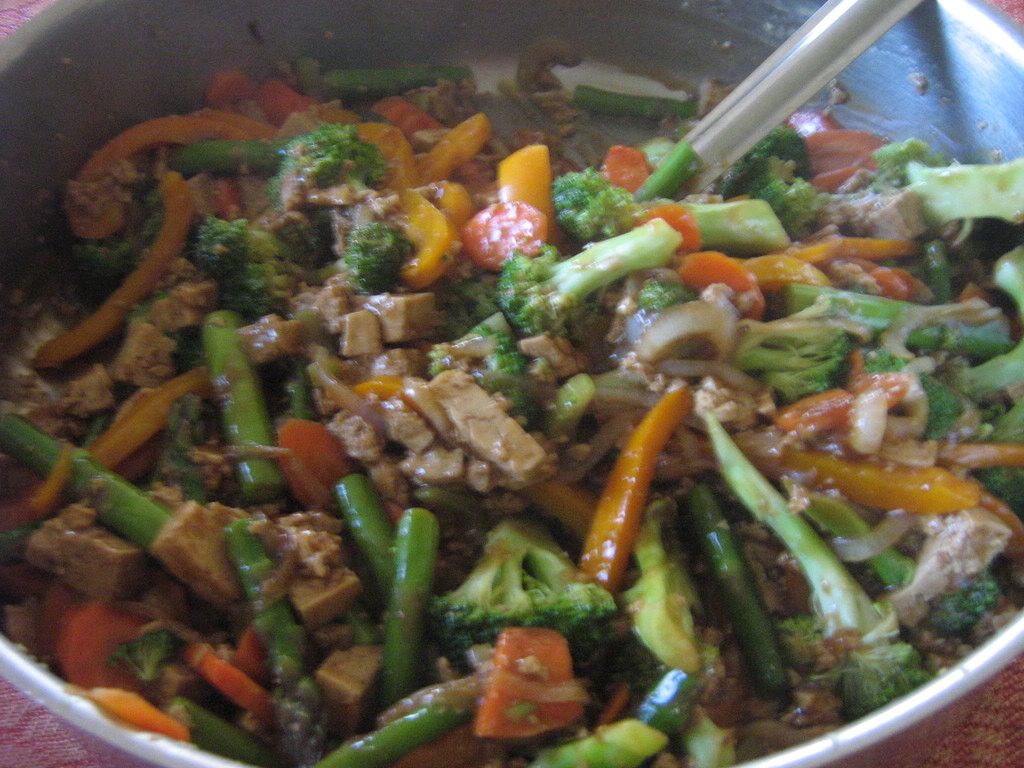 copyright 2008 The Homefront Lines