I had an eggplant in the fridge that really needed to be used so I thought about a recent episode of Throwdown I saw on the Food Network. The competitors eggplant parmesan looked fantastic. I never thought I would have found the recipe for it on the Food Network, but I did! I actually almost followed the recipe. You will see my changes.
I hope you enjoy this as much as my crew did!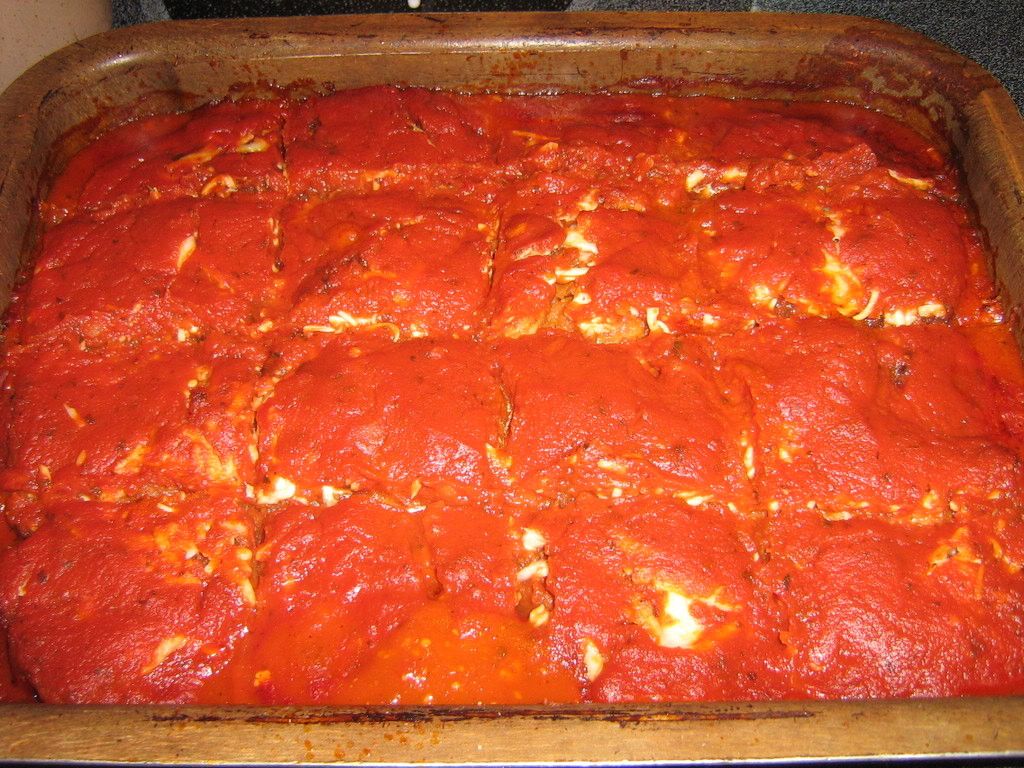 Mike's Deli Famous Eggplant Parmigiana
Oil

(I used olive oil)

2 large eggplants

(I used 1 larger eggplant)

All-purpose flour

(I used whole wheat)

4 eggs

Bread crumbs (recommended: Arthur Avenue Italian Deli)

(I used what I had in the cupboard but they were Italian...I also added a handful of grated parmesan cheese and some Kosher salt to the crumbs)

1 quart marinara sauce (recommended: Arthur Avenue Italian Deli)

(OK, maybe I didn't follow the recipe perfectly...lol...I used 2 cans organic spaghetti sauce)

8 ounces sliced dry mozzarella (recommended: Arthur Avenue Italian Deli)

(1 small bag shredded mozzarella)

4 ounces grated Romano (recommended: Arthur Avenue Italian Deli)

(half a bag of parmesan)
Preheat oven to 350º and heat oil in a large pan, Dutch oven or deep-fryer.
Peel the eggplant and slice into 1/4-inch thick slices. Coat each side of the eggplant with the flour.
In a separate bowl beat 4 eggs and dip the eggplant into the egg to coat both sides. Then take your bread crumbs and do the same to coat each side.
Once the oil is hot, put the eggplant in the hot oil and fry until golden brown. You can also use a deep-fryer and leave in for about 2 to 3 minutes. (I used a non-stick skillet and it worked wonderfully)
Once all of the eggplant has been fried, get a rectangular baking pan and start the layering by adding the marinara sauce to the bottom of the pan, then the eggplant, more sauce, fresh mozzarella, Romano cheese, and continue to layer until you have reached the top of the pan. (I layered with sauce on bottom, eggplant, cheese, sauce, eggplant cheese...ending in sauce)
Top off with sauce, mozzarella, and grated Romano (did not top it off with cheese, just left the sauce...I felt there was enough cheese the way it was)
Place the eggplant into the oven and cook for 20 to 25 minutes.
Served with garlic bread and a bowl of cucumbers, orange peppers, carrot coins and halved grape tomatos tossed with Ranch.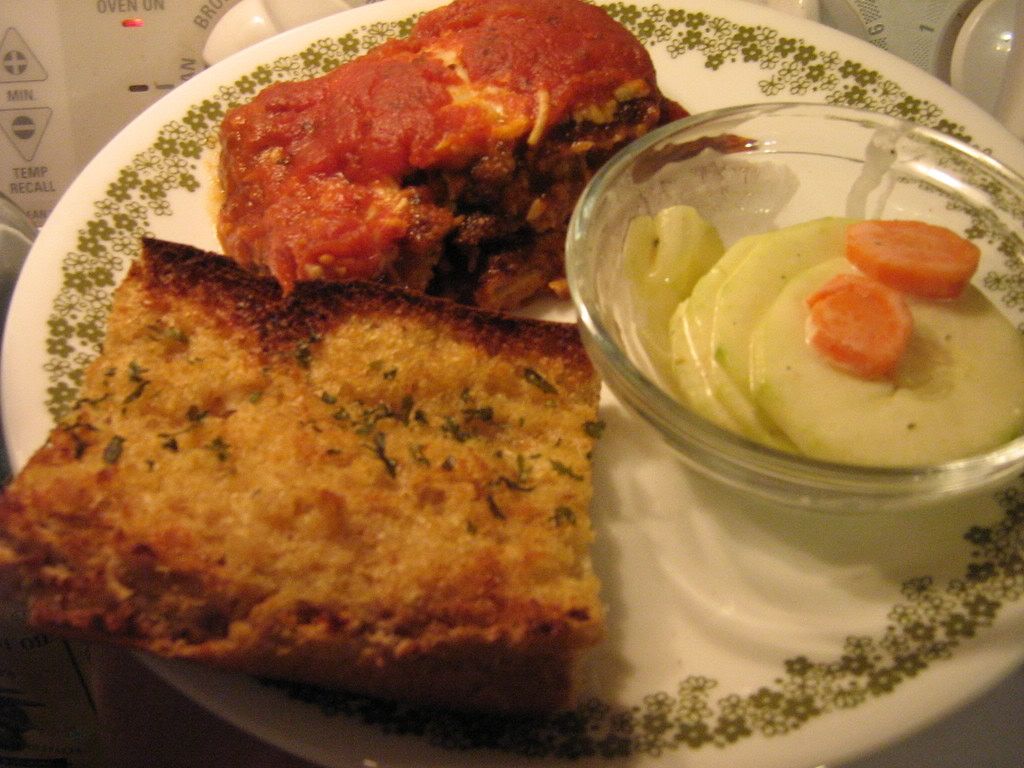 Enjoy!
© 2008 The Homefront Lines