Don't know where these recipes came from. Had them printed in my "to-try" notebook and didn't make note of the origin. Rest assured they came from someone, somewhere who knows how to cook.
These two recipes are fantasitic. Oh so good!
Turkey and Wildrice Soup
1 turkey carcass
1 1/2 gallons water
1 large onion
1 carrot, peeled and halved
1 stalk celery, halved
5-6 cloves garlic
1 bay leaf
1 tsp thyme
salt and pepper to taste
Bring the ingredients to a boil. cover and reduce to simmer. Simmer for at least 2 hours. Strain, separate meat. Cool and skim fat.
To cooled broth add 3 large taters chopped, 1 large onion chopped, 2 carrots peeled and diced, 2 ribs celery sliced, 1 cup white rice, 1 cup brown rice, 1 cup wild rice. Bring to a boil. cover and simmer until veggies are tender and rice is done.
Add 2 cups milk mixed with cornstarch to thicken. Might need more to thicken up.
Adjust seasons as needed.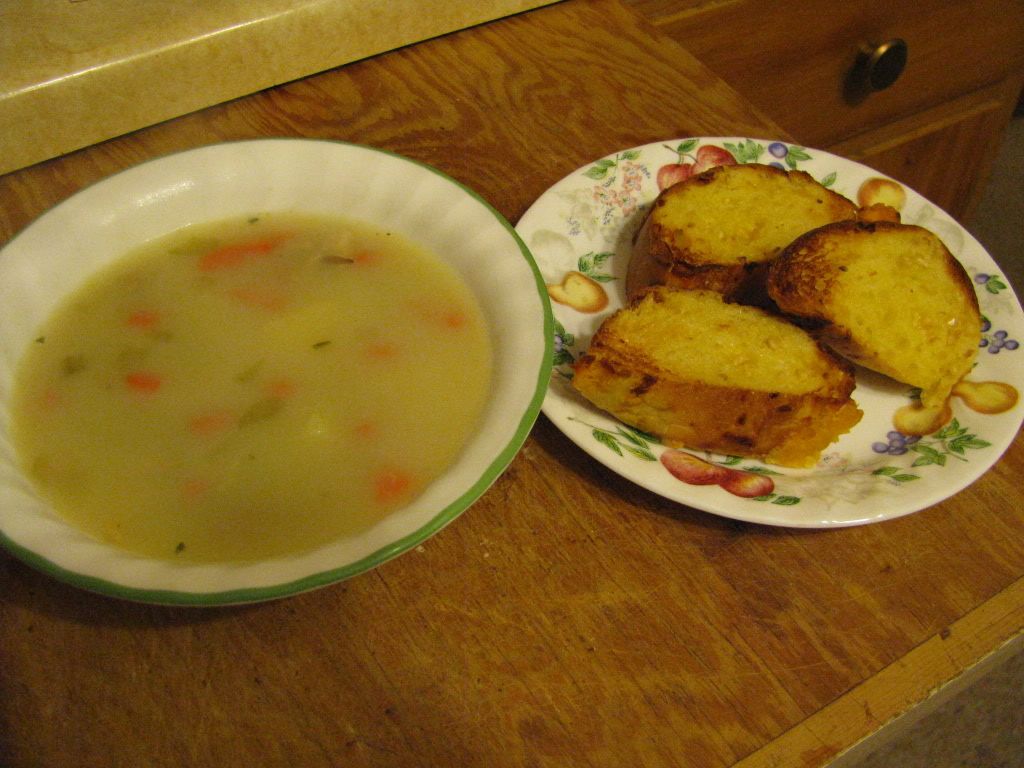 Chunky Garlic Bread
1 pkg asiago cheese ciabata rolls
1/2 cup softened butter
4 heaping tsp minced garlic
couple tbs parsley flakes
kosher salt and pepper to taste
Mix butter, garlic, parsley, s and p. Cut bread into slices. Slather butter on bread. Head in 350º over until heated through then broil to turn golden brown. Doesn't get much better than this folks.