...It's not enough!"
I totally understand Charlie's frustration. Cabbage water leaves, um, a bit to be desired. Really it does. But, being a Willy Wonka fan and this never ending need to taste the foods that make the movies I love stand out in my head, I tried it. I waited until I found the perfect recipe. A recipe that might, just maybe, provide us with riches. I believe it will.
I honestly cannot remember where I got this recipe. I found it, printed on printer paper, while cleaning out the cookbooks. I had to try it.
Money Soup
1/2 onion diced
small head of cabbage, shredded
1-2 tbs butter
4 cups chicken broth
salt and pepper
garlic powder
1 peice of silver, boiled
Saute the onion in butter. Add cabbage and saute until parcially limp. Add boiled silver peice (I used a silver dollar) and chicked broth (I used 1 box chicken broth and 1 box chicken broth, so used more broth that is called for). Simmer until cabbage is done. Fish out silver and serve. Make and eat whenever a little money is needed.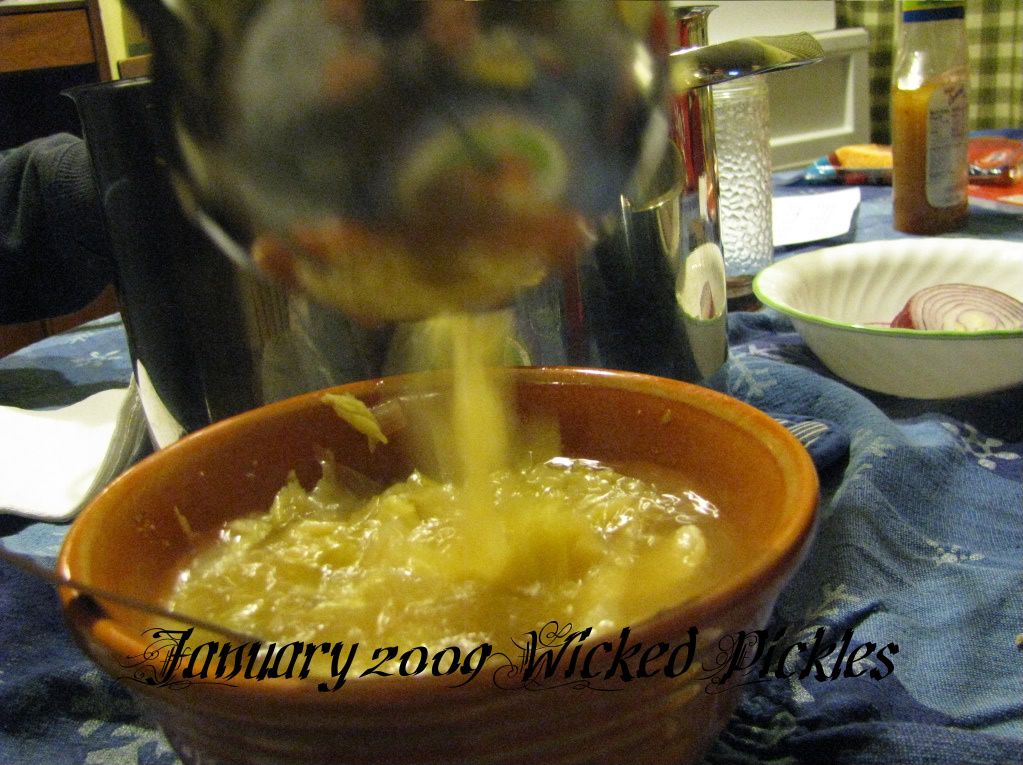 Sweet and Chip really liked the cabbage water. Dill sort of liked it. Cool, who really doesn't like cabbage, ate it to be polite (but I noticed he didn't eat it out of his lunch box the next day). I really felt like I was being a good behemie girl by making this dish. :-)
I served this with a lettuce salad and BBQ dried beef.
© 2009 Wicked Pickles-Homefront Lines